Disposable disinfecting wipes
are a convenient alternative to paper towels and disinfecting solutions. They eliminate the need for a separate roll of paper towels and an extra bottle of solution, and are also hygienic. These wipes are very effective at killing 99.9% of viruses and bacteria, making them a great choice for families with young children or pets.
Disposable disinfecting wipes are convenient
Disposable disinfecting wipes are widely used in the food industry and domestic environments. Their reliability and convenience have led to their increasing use in hospitals. However, there are many factors that affect its detergency performance. Specifically, the amount of active ingredient and fabric substrate affects the efficacy of the wipe.
Regardless of the product, it is important to follow the manufacturer's instructions for proper use. Disinfecting wipes are effective in killing viruses and bacteria. They should be used correctly, according to infectious disease expert Caroline McWilliams.
They eliminate the need for a separate roll of paper towels and a bottle of sanitizer
Disinfecting wipes are a great solution for a variety of cleaning and disinfection needs, and are available in a variety of brands. These single-use wipes eliminate the need for separate rolls and sanitizer bottles. Remember to follow the directions on the package before using the wipes. Different brands of wipes are best for different surfaces, so be sure to read the label.
Disinfecting wipes can also save time for staff and teachers. Unlike paper towels and disinfectant sprays, wipes are non-contaminating and leave no germs and residue behind. They also eliminate the need to measure the sanitizing solution into a separate paper towel. Sanitizing wipes are an excellent solution for a variety of cleaning tasks, from cleaning floors to disinfecting tables and counters.
They kill 99.9% of viruses and bacteria
If you're looking for a convenient way to clean your home or office, consider using disinfecting wipes. Packed in a convenient pouch, these wipes kill 99.9% of bacteria and viruses. These wipes are bleach-free and EPA registered. They are effective against viruses, bacteria and COVID-19 and come in two different scents: Bamboo and Citron. They are also safe to use on granite, stainless steel and wood.
These wipes are very convenient and easy to use. They are great for cleaning almost any surface. They are easy to use and require no measuring or mixing. Best of all, they kill 99.9% of bacteria and viruses on almost any surface.
they are hygienic
Wet wipes are a convenient way to clean your hands, face and surfaces. These wipes are usually made of non-woven fabrics. They are moistened with water or other liquids, and often flavored or softened. These wipes are then folded and packaged in a convenient dispenser or pack for easy use.
Disinfectant wipes are gaining popularity among consumers due to increasing awareness of cleanliness and the need to kill germs in indoor environments. Wipes are also used for personal care, such as removing makeup and moisturizing the skin. The use of wet wipes is expected to increase with further research into their effectiveness and the development of more personalized personal care products tailored to specific age groups and household needs.
Wipes are most commonly used for cleaning. Disinfecting wipes are an effective way to prevent the spread of diseases like COVID-19. You can find sanitizing wipes at grocery stores and schools. Disposable wipes are also convenient because you don't need to buy separate cleaning supplies. Depending on the brand, disinfecting wipes work well on frequently touched surfaces.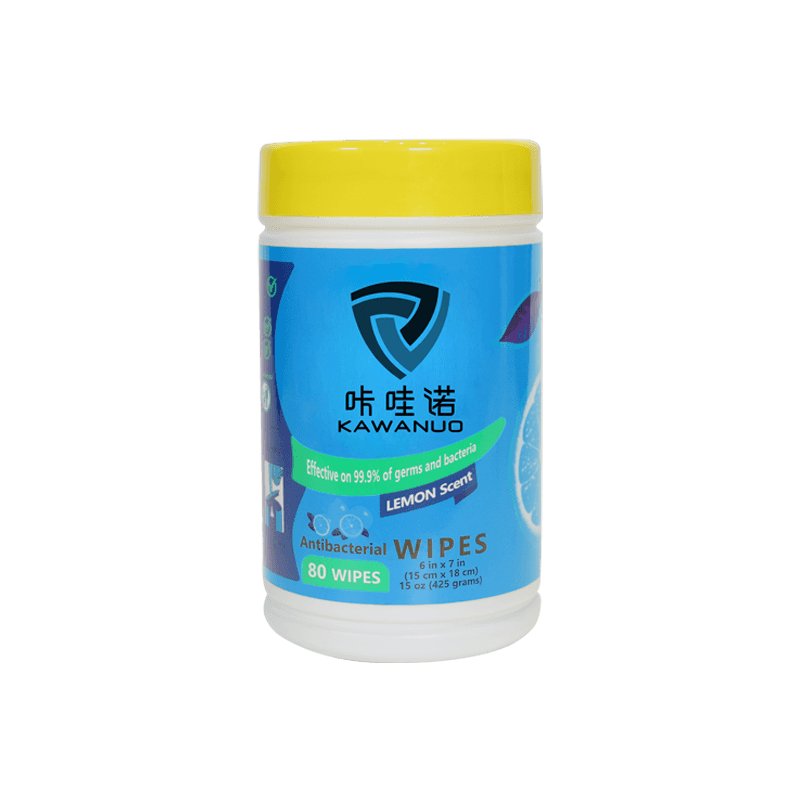 Disfecting And Antibacterial Wipes/Lemon Scent BR-007
Features
Disfecting and antibacterial wipes/Lemon scent,
to decrease bacteria on the skin that could cause desease
Product code:BR-007
Fabric:100%PP Melt blown fabric
Specification:80 Count Sheet size:14x18cm
Weight:40gsm
Packing size:35X21X30cm
Gross weight:5.4kg