If you're looking for sanitizing wipes that effectively clean and protect your kitchen, you're in the right place. Disinfecting wipes provide a convenient way to remove germs and other germs from kitchens and other frequently touched surfaces. Use this product to help prevent skin irritation and protect your family from harmful bacteria.
Disinfecting wipes
are an effective tool for sanitizing and sanitizing surfaces. Disinfectants are compounds that inhibit the growth of microorganisms. They usually consist of aldehydes, quaternary ammonium compounds and peroxides. In addition, some disinfectants are fungicidal, virucidal and sporicidal. These chemicals are used to disinfect surfaces, especially hard surfaces such as countertops.
Whether you're cleaning your home, office, or other surfaces, it's important to use sanitizing wipes. The sanitizing action of these products relies on the interaction between the wipes and the active ingredients contained in the solution.
When using disinfectant wipes, be sure to follow the directions on the label. Wear gloves to protect your hands. Before using the product, read the label carefully and remove any visible dirt and gunk from surfaces.
Using sanitizing wipes is an effective and efficient way to sanitize and disinfect hard surfaces. However, you should always keep them out of the reach of children. This is to prevent lung irritation and throat irritation. Store sanitizing wipes in an airtight container.
To ensure the effectiveness of disinfecting wipes, they must be evaluated against international standards. International standards must consider factors such as the number of surfaces tested, swabbing strategies, and cross-contamination.
The test standard must also account for the fact that the same rag may be inoculated with different organisms. Therefore, comparing the results of different standards can be difficult. While some testing standards are designed to assess the overall antimicrobial efficacy of disinfecting wipes, others focus on evaluating the effectiveness of specific disinfectants.
Frequently touched non-porous surfaces
Proper disinfection of frequently touched non-porous surfaces is important to prevent the spread of disease. There are a variety of products available for sanitizing hard and soft materials. Determining the correct product for your specific situation is the first step in protecting your health.
For example, if you use your computer at home, it's important to sanitize it regularly. Whether you clean it yourself or have a professional do it for you, you need to follow the manufacturer's instructions carefully.
Some of the most common surfaces you may need to disinfect include windows, doors, light switches, and doorknobs. Keeping these surfaces free of dust, dirt and debris can reduce the risk of catching a cold or flu.
One of the best ways to clean these surfaces is with soap and water. If you don't have soap and water, you can use a liquid or spray sanitizer. Don't try to mix different solutions together. This can be dangerous and produces toxic fumes.
You can also use alcohol-based wipes as a disinfectant. To do this, apply the wipe to the soiled surface and wait a minute. After one minute, remove the rag and wash the soiled area with warm water. Then, wipe the area with a clean dry cloth.
While there are various methods of cleaning, it is important to remember that the most effective method is disinfection. Disinfection will eliminate viruses and bacteria and prevent their spread.
Disinfecting wipes are a great way to get rid of germs and germs. They're also a great way to clean all kinds of surfaces. This includes kitchen countertops, bathroom counters, and even faucets. These wipes are easy to use and can remove all kinds of messes.
Disinfecting wipes are great for keeping your home or business free of germs and viruses. These wipes kill common bacteria and viruses such as E. coli and salmonella. Plus, they remove soap scum and grease. Their sheer dry formula leaves a streak-free finish on glossy surfaces.
Although convenient to use, these wipes can also damage certain surfaces. For example, if you use them for too long, they can spread germs and germs. Therefore, it is best to use them on only one surface at a time.
Disinfecting wipes are ideal for schools, daycare centers, and hotels. These wipes can also be used on computers, cell phones and keyboards. The labels on some wipes will indicate which surfaces they are suitable for. Likewise, some wipes are only suitable for certain surfaces, such as those used in healthcare settings.
Some of these wipes also have an odor-controlling fragrance, so you won't smell of chemicals the entire time you're using them. Disinfecting wipes are an affordable and easy way to keep your home or office free of germs and germs.
prevent skin irritation
Disinfecting wipes contain chemicals that kill viruses and bacteria. These products should be used with caution to ensure a safe experience.
Disinfecting wipes can cause skin irritation and lung irritation when used incorrectly. Always follow the directions on the label.
Some disinfectants can disrupt the skin's natural barrier function. This can lead to irritant dermatitis, a common skin condition. Symptoms include redness, itching, and cracking of the skin. Call your dermatologist if you suspect you have dermatitis. They can prescribe creams or steroid medications.
You should also read package labels and ingredients. Many household cleaning products contain fragrances and preservatives that may trigger an allergic reaction.
Also, some materials, such as cotton, may harden the skin. It is best to wear gloves when using cleaning products.
Disinfecting wipes are also designed for skin use. However, you shouldn't use these wipes around your eyes. Instead, wash your hands with soap and water. Keep them out of reach of children.
While disinfecting wipes are relatively safe when used correctly, they are not recommended for use on babies or others with sensitive skin. Also, don't flush these wipes down the toilet.
If you develop a rash after using a cleaning product, you should see your doctor. Your dermatologist may recommend a steroid medication or ointment. He or she may also perform a dermatitis patch test.
Certain disinfectants, such as quaternary ammonium compounds, can be harmful to your skin. The use of multiple disinfectants creates a synergistic effect.
If you have dry skin, you can prevent this by washing your hands with a moisturizing cleanser. Skin should also be moisturized after washing hands.
child safety
If you have kids at home or at school, you may be concerned about the safety of disinfecting wipes. Wipes containing active ingredients such as bleach can cause allergic reactions in humans, and some studies have shown that long-term use of these products can trigger asthma in children. However, these disinfectants can be beneficial when used properly.
To be effective, a disinfectant must be able to stay on a surface for a certain amount of time, or residence time. While dwell time will vary by sanitizer, the average time is about 4 to 10 minutes.
Disinfecting wipes are a convenient way to clean and kill germs. They're also handy when you need to clean high-touch surfaces like tables and counters.
When deciding whether to use sanitizing wipes, consider the size of the room you'll be cleaning. Higher saturation can be achieved with more wipes. Also, make sure the wipes aren't being saved and thrown in the trash. This increases the risk of cross-contamination.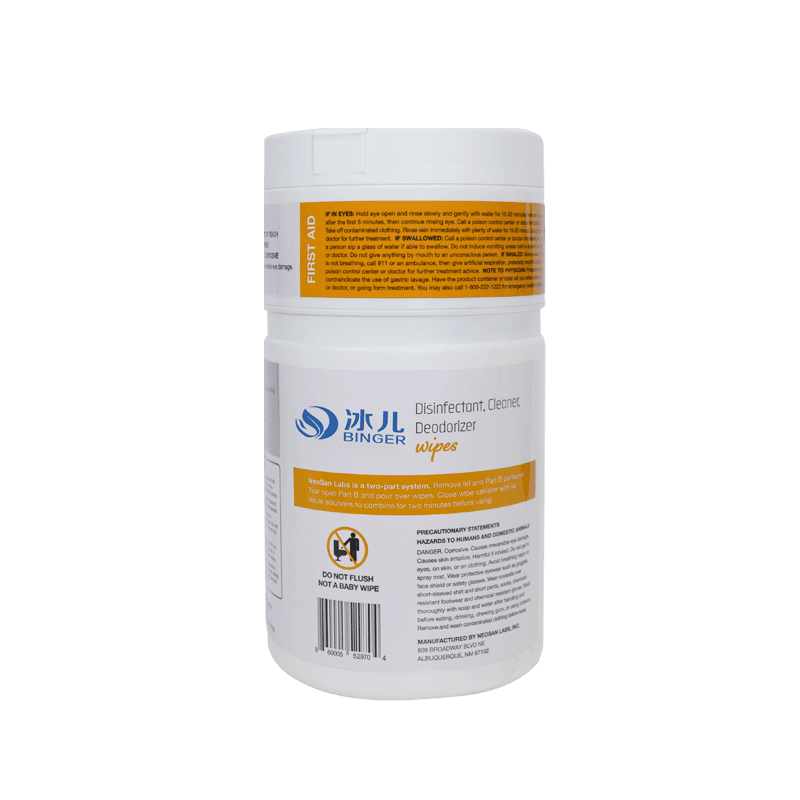 Features
EPA Registered wipes,Kill COVID19 and 99.9% Germs,the product is designed speifically as a general cleaner and disinfectant for use in homes,hospitals,and commercial facilities,it's formulated to disinfect hard,non-porous,inanimate environmental surfaces such as floors,walls,metal surfaces,stainless steel,porcelain,glazed ceramic tile,plastic surfaces,bathrooms,shower stalls,bathtubs,hard nonporous cabinets,and walls of swimming pools.may be used in the kitchen on non-food contact surfaces.